Victor Englebert dreamed of being an explorer as a kid in Belgium. Through photography, writing and extreme guts, the dream became reality. His work appears in umpteen books and magazines.

Matt Kania loves maps and, as a kid, dreamed of making them. Many of the maps he now creates can be found in books, magazines, videos, websites, and in public places like museums and schools.

Matt Mills, a Minneapolis College of Art and Design grad, hails from Kansas City, MO. After hours of house illustration for this book, he's planning to design and build his own house.

Amy Learn, a Minneapolis College of Art and Design grad, grew up in a 100-year-old Iowa farmhouse like the one she illustrated for this book. Now, she is bringing her pictures to life in the world of animation.

Jan Reynolds is an author, photographer and adventurer who just can't get far enough away from it all. She loves to escape to extreme environments and hang out with the locals to learn about their culture.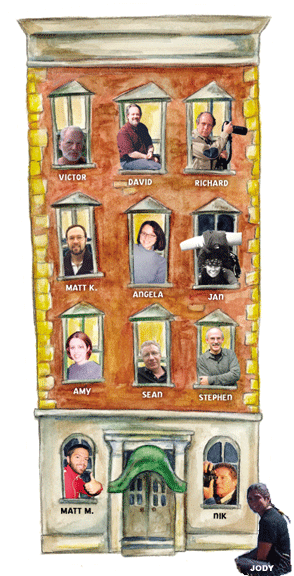 Web designer Jody Russell is usually sitting in front of her computer designing web sites, except when she's off exploring a big lake in her sea kayak.
David Farr took his first printing and photography classes in eighth grade. In more than 25 years of work, he has designed hundreds of books and made photographs for himself, his family and publications.

Richard Nowitz has been traveling the world with camera in hand for over 25 years. He is often sent on special assignments as a photographer for National Geographic Kids magazine.

Stephen Trimble started taking pictures as a kid and hasn't stopped. He is biology student turned park ranger, turned award-winning photographer and writer. He writes from the attic of his 1915 house in Salt Lake City.

Sean Sprague is a 55-year-old photojournalist who has been traveling the world since he was 18. He works primarily as a freelancer with aid agencies, documenting their projects.

Nik Wheeler dreamed of being a professional soccer and cricket player as a kid. Little did he know he'd become a well-known photographer with travels to more than 100 countries.