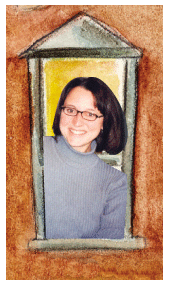 Angela Gustafson is pursuing a dream through her What a World We Live In line of products. As a Peace Corps Volunteer with her husband from 1994-1996, Angela experienced the thrills of new places, new faces, and new ways of life. She is now dedicated to bringing those same thrills to others by tracking down interesting facts and photos from around the world and sharing them through her work.

Imagine a House: A Fascinating Journey to Houses Around the World is her first book. It's the type of book that she wants available for her four young children, to help them see and celebrate the diversity, creativity and richness in cultures from around the world. Angela and her family live in Minneapolis, MN.

You can contact Angela directly at angela@ootbooks.com.